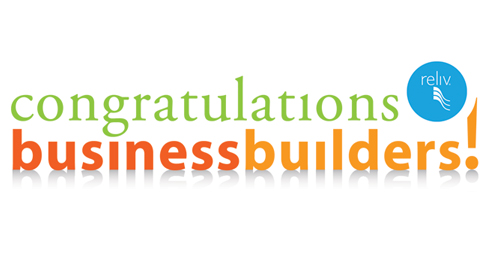 Congratulations to the Distributors who rocked the month of May!
Sandy Award Winner
Joe & Carol Felger
Dr. Ted Plaque Winners
Rosemary Bell
For every Dr. Theodore Kalogris Plaque earned, Reliv will make a donation to the Reliv Kalogris Foundation in honor of the Distributor recipient. The donation will provide nutrition to 16 kids for one month. For every Sandy Award winner, Reliv will make a donation to the RKF in honor of the Distributor providing nutrition to 30 kids for one month. All donations made "in honor" of a Distributor are acknowledged alongside our top donors at Reliv Headquarters.
3 & Free Product Credit Winners
Lupe Finch
Adilberta Ramirez
Linda & Clifford Kirkwood


Those receiving the Preferred Customer Product Credit signed up three Preferred Customers on autoship in a single month with product orders of $99 or more.
Quick Start Bonus
Lupe Finch
Betsy Ross
Those receiving a Quick Start Bonus personally sponsored 3 new Distributors who reached QS or above.


Master Affiliate Bonus
Donald Campbell
Dawn Tucci
Chester & Celesta Shrock
Judy & Jack Bee
Mathew Fischer
Those receiving a Master Affiliate Bonus promoted a personally sponsored Distributor to MAF.