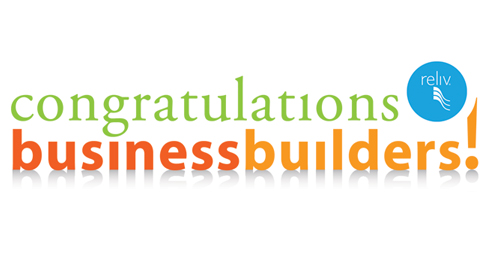 <
Meet the Distributors who rocked the month of November!


Master Affiliate Bonus

Angela Henriquez
Vianey Pineda
Katy Deen
Cynthia Lunz
Mary & Terry Jorgensen
Crystal Massengill
James McDowell
Rusan Costa
Ali Abela
Marsha Abendroth
Mont & Robin Butler
Macaria & Paula Leticia Perez
Terry & Sally Cover
Valerie Shepard
David Enniss
Kimberly & Richard Burns
Julie Moeller



Those receiving a Master Affiliate Bonus promoted a personally sponsored Distributor to MAF.


Quick Start Bonus

Diana Jimenez
Doris Smith Leissing
Lupe Finch
Scott & Deborah Weaver
Dawn & David VanAmberg
Virginia Connelly
Marsha Abendroth
David & Jennifer Eaves
Jeanne Kiefer
Susan Brusa
Sandi Miller
Marscia & Jeff Fleagle



Those receiving a Quick Start Bonus personally sponsored 3 new Distributors who reached QS or above.
3 & Free Product Credit Winners

Christopher & Karin Ederer
Cheri Otzenberger
Tanzeen Haider
Alison Jones
Pamela & Dean Thielen
John & Nathalie Curtin
Tricia King
Naomi & Guy Lydick



Those receiving the Preferred Customer Product Credit signed up three Preferred Customers
on autoship in a single month with product orders of $99 or more.
Congratulations to our October advancements!
Top 3 New Volume Bonus!

David Enniss
Charlotte Frederick
Karina Torres

Senior Director

Karen Ilmberger

Key Directors

David Enniss
Emily & John Macmillan

Directors

Nathan & Gloria Stauffer
Christine Ciccone
Kimberly Hensley
Becca Mark
Anita Bastian
Brenda Guess
Sandi Miller
Charlotte Frederick
Angela Henriquez

Dr. Ted Plaque

Vianey Pineda

For every Dr. Theodore Kalogris Plaque earned, Reliv will make a donation to the Reliv Kalogris Foundation in honor of the Distributor recipient. The donation will provide nutrition to 16 kids for one month. For every Sandy Award winner, Reliv will make a donation to the RKF in honor of the Distributor providing nutrition to 30 kids for one month. All donations made "in honor" of a Distributor are acknowledged alongside our top donors at Reliv Headquarters.