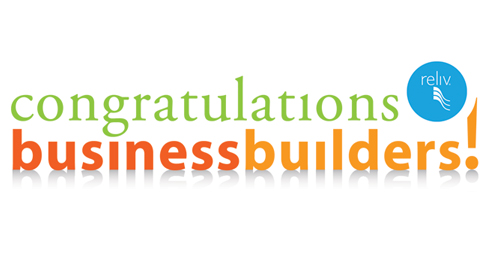 Congratulations to the Distributors who rocked the month of March!
Dr. Ted Plaque Winners:
Julie Moeller
Stephanie & Paul Collins
Dave & Betty Blazic

For every Dr. Theodore Kalogris Plaque earned, Reliv will make a donation to the Reliv Kalogris Foundation in honor of the Distributor recipient. The donation will provide nutrition to 16 kids for one month. For every Sandy Award winner, Reliv will make a donation to the RKF in honor of the Distributor providing nutrition to 30 kids for one month. All donations made "in honor" of a Distributor are acknowledged alongside our top donors at Reliv Headquarters.

Top 3 New Volume Bonus Winners
Feliciano Torres
Laurie & Richard Epps
Eileen & James Tesch
Preferred Customer Product Credit
Dawn Tucci
Those receiving the Preferred Customer Product Credit signed up three Preferred Customers on autoship in a single month with product orders of $99 or more.
Quick Start Bonus
Stacey Herman
David & Debbi Murphey
Milian Correa
Marcia Anguiano & Ramon Lopez
Charles & Janet Powell
Hollan & Daniel Murphey
Rosemary Bell
Heidi Krahn
Julie Moeller
Cynthia Lunz
Those receiving a Quick Start Bonus personally sponsored 3 new Distributors who reached QS or above.


Master Affiliate Bonus
Juan Carlos & Angela Castaneda
Tamra & Vohn Martineau
Annette & David Wells
David & Jennifer Eaves
Doris Smith Leissing
Amy & Mark Thomas
Lupe Finch
Gayle Gellis
Melinda Meyer
Ryan & Gaylynn Mauss
Ishmar Umanos
Valerie Shepard
Charles Le Fever
Laurie & Scott Prindle
Trish Fischer
Mervyn Vidad
Rosemary Bell
Ilene & Myron Bontrager
Gay & Kenneth Lange
Donna Zroka


Those receiving a Master Affiliate Bonus promoted a personally sponsored Distributor to MAF.